Who are the best International Movers in London?
---
Posted on May 15, 2019
---
---
I'm going to try to be as impartial as possible here – Click Moves is up there with the best, but you should get alternative quotes to check what the market offers. So here a short guide to who I think are the best international movers.
Now I've been around in this business for more years than I care to tell, so let me start by dispelling some myths:
"We don't use sub-contractors" – ALL Moving companies use third party sub-contractors, and that's not such a bad thing, as it offers some fixed cost savings that your mover can pass down to you, the client. The critical issue is the quality of the sub-contractor and how that quality is monitored and controlled by your Mover. This is a good question to ask your Mover.
"Our export packing is the best" – you'll need to back that up with some evidence, as packing materials are different quality, cardboard is different thickness, and the skill of the export packers is directly correlated to the risk of damage.
"There is no chance of any damage" – that's a big statement because things can happen outside of your Movers control, an accident on the road, or at sea, an unseen pothole in the road can cause severe damage to the contents of the vehicle. At the end of the day no removalist is perfect , occasionally we all make a mistake. Damage can happen, and that is why we recommend that clients buy Moving transit insurance.
We guarantee delivery on a specific day and time" – OK if you're moving around the corner, but we're talking international moving here and there are so many influences out of our control that could impact on the delivery schedule – a strike at the port (talk to my French colleagues about that), delays in unloading the vessel at the port (talk to my colleagues in Brazil where the Stevedores work a 4 hour day), or there is simply a big storm at sea and the vessel is forced to hole up in a port for a couple of days until it passes. There's hundreds of reasons why your consignment can be delayed , so have a back up plan.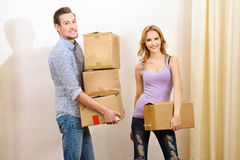 OK, I digress – who are the best International Movers in London? Depends on what your looking for:
Cheap but gets the job done – but bear in mind that you're paying for an economy service, so don't expect bells & whistles. Try John Masons, or Excess International
Money is no object – they use the same ships and planes, but you can have confidence that they wont short change you on the quality of packing, and customer servicing – you're turning left when boarding the plane with these guys. Try Crown and Santa Fe
Somewhere in between – that's what Click Moves lands
Click Moves is an International Mover with offices around the world, we specialise in providing high quality services at affordable rates. So if you are planning a move overseas, please feel free to drop us line with any questions that may come to mind – matt@clickmoves.com