Would Cultural Training Help When Moving Abroad?
---
Posted on February 5, 2020
---
---
Many people have a dream of living abroad, whether to enjoy a completely different lifestyle or to enhance their career opportunities. However, fantasising about relocating and actually doing so are very different things, which is why many people struggle with the reality of moving overseas.
For this reason, having cultural training to really inform those who want to move what they can expect could really help with the process and improve their chances of success.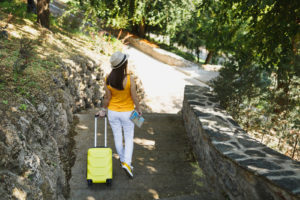 – Why do so many people fail at moving overseas?
Nearly two-thirds of overseas work assignments fail, according to Cartus, as there are many challenges to moving your life abroad that lots of people do not appreciate.
For instance, many people underestimate how much they would suffer from loneliness, as they often do not know anyone in the new country. Culture and language barriers are also big hurdles to overcome, as you have to become familiar with different rules, traditions and ways of life. What's more, not being able to speak the same dialect can feel alienating.
It might also be hard to find food that you enjoy, especially if the produce and cuisine are extremely different from what you are used to.
Having spent your entire life in one country, it is challenging to suddenly have to learn how to adjust to a different language, culture, religion, and cuisine, which can add to the feeling of homesickness even more.
According to Personnel Today: "Overseas assignments are often to countries with very different cultural environments to the employee's home country. Culture shock can compound the usual feelings of nerves associated with a new job."
– How to improve your chances of making relocating a success
Therefore, a lot of thought and preparation needs to be taken before you set foot on that plane. It is not just important to organise where you will live and get international moving quotes, it is essential to mentally prepare yourself for the big move, so it is less of a shock when you arrive.
Here are some tips on how to do this:
Those who are moving for work might be able to benefit from cultural training. KPMG reported that 38 per cent of businesses with a globally mobile workforce provide this for staff and their families. While this is not a huge amount, and nearly just as many companies (35 per cent) offer no training at all, it is wise to take advantage of it if you can.
By embarking on this training, you have the chance to really get to grips with local laws, customs and habits that you can expect in the country you are moving to.
"Cultural training can enhance cultural sensitivity, competence and most importantly, eliminate the risk of major miscommunication," the Personnel Today article stated.
By having a better understanding of the nuances, beliefs and challenges of the different culture, you are more likely to foster better working and social relationships with those you come into contact with once you relocate.
Another way to ensure your transition goes as smoothly as possible is to embark on language lessons, so you are more familiar with the spoken tongue when you land.
While it might take a long time before you are fluent, or even conversational, in the language, having some grasp of the vocabulary will help when you are out and about, such as in a restaurant, shop or café. Though your colleagues may all speak English, knowing a few words will help you to fit in outside work and make you feel less like an outsider.
It can also help endear the locals to you if it looks as though you are trying, enabling you to feel more included and not as isolated.
International Living stated: "Simple phrases, although not grammatically correct, will provide a way to communicate and survive. You will feel remarkably accomplished once you can manage a few key phrases."
To make your new country feel like home, it is important to get yourself and your family involved in things. Join classes or groups to meet other people, enrol your children in school as soon as possible, and introduce yourself to your neighbours.
It is easy to feel alone when you don't know anyone, which is why getting out and making new friends will ensure the move goes a lot more smoothly.
Having said that, it is also important to stay in touch with loved ones. You and your family are likely to miss people, even if you are having a good time, so schedule in regular video chats, send photos to update relatives, and budget a couple of visits home every year so you don't end up feeling so far away.